Jaycees Spotlight
We have decided to shine the spotlight on Jenni Riehle for her willingness to share her talents and her commitment to the chapter. She most recently stepped up to the challenge of creating our Spring newsletter and also chaired a very fun Crazy Hat Happy Hour to help kick off our year of fun and social events in the Jaycees. Jenni has been with the Lansing chapter for over five years, and has been an asset to the team with her skills in communications and visual arts and supporting new and veteran members alike.
Read on for some Q&A with Jenni!



Jaycees Spotlight on Jenni Riehle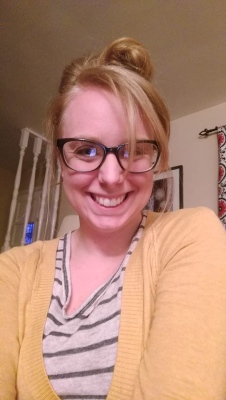 Where do you work and where do you live?

I work for the State Budget Office as a communications analyst and we recently bought a house just south of Mt. Hope by Waverly.

How long have you been a Jaycee? Have you served on the board?
I joined the Jaycees five years ago, in July of 2012. I did serve on the 2015 Board of Directors. It was one of the greatest learning experiences of my life.

What is your most memorable Jaycees moment?

There are so many memories but I think one that will always stick with me was when I planned my first event with the Jaycees, which was a wine tour, and it doesn't stick with me because it was my first event - it stuck with me because it was that night I felt like I was making actual, meaningful, connections with other members.

I can't tell you how relieved I was to know I had found an organization of amazing young, motivated, people who I could feel myself around. I was never fond of the stuck up, super professional, awkward networking thing. The Jaycees just felt natural and they made me feel like I had found my tribe.

What is your favorite Jaycee project?

I love Halloween, and therefore, I love doing face painting at Trick or Treat on the Square. Which is crazy, because I don't care for face painting that much but the costumes make it worth it!

What are the top three highlights of your life?
Graduating college. I wasn't the traditional student and it took me longer than it should have but I did it. Not one day goes by that I am not grateful because I know many people back home were never afforded the opportunity.
Breaking the paycheck to paycheck cycle. I know it might feel impossible at times, and sometimes it is, but that is no reason to give up. Educate yourself on how money works. (The Money Under 30 website is a great place to start). Trust me, your future self will thank you.
Having a small close-knit family – who all like each other. I have amazing parents, a great sister, brother in-law, niece, and partner that I want to hang out with all the time! I know not everyone can say that.
What is your favorite board or card game?

I have never been a very big board game person but I do like cards – spades or euchre.

What are you looking forward to in the next year?

We are planning on checking off several national parks next summer, and I am particularly looking forward to Glacier National Park.

What song always puts you in a good mood?

Oh, well, that has to be Bad Habit by The Offspring

What is your favorite place or vacation spot?

The backcountry.

What advice do you wish you were told your first day as a Jaycee?

Speak up, speak out, don't be afraid, find people around you with similar goals and get it done